NEWS
2019.5.22
XRISM web site has been launched.
2019.5.17
The second XRISM Team Meeting was held in ISAS/JAXA on May 14 to 17.
2019.3.12
JAXA preliminary design review was successfully finished. Critical design phase started.
X-Ray Imaging and Spectroscopy Mission ---
XRISM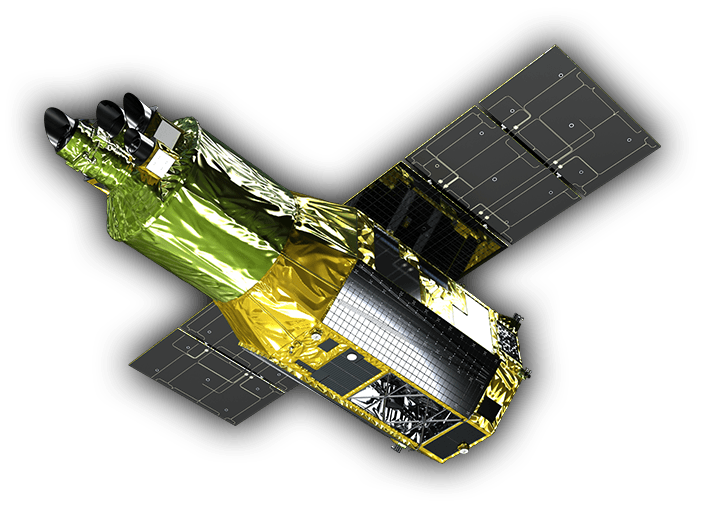 After the loss of ASTRO-H, JAXA conducted a thorough mishap investigation, and derived an extensive list of lessons learned. These lessons are being rigorously employed in the development of the new X-Ray Imaging and Spectroscopy Mission (XRISM). Building on the successes of the ASTRO-H mission, XRISM will perform the high-resolution X-ray spectroscopic observations of the hot gas plasma wind that blows through the galaxies in the universe. These observations will enable us to determine flows of mass and energy, revealing the composition and evolution of celestial objects. This innovative, JAXA-led international project will be developed in collaboration with NASA, ESA, and other highly-qualified partners. XRISM will carry forward the ambitions and successes of ASTRO-H, and will deliver the highly-anticipated scientific results to the world.
XRISM is a new X-ray astronomical satellite which observes plasma in stars and galaxies. With a new generation of X-ray imaging spectroscopy technologies, XRISM will resolve mysteries regarding the formation of the universe.
XRISM is equipped with a wide-field X-ray imager and a cryogenic high-resolution X-ray spectrometer. With these two complementary instruments, XRISM will precisely measure plasma conditions at selected targets throughout the universe.
By measuring the velocity and makeup of the plasma between stars and galaxies, XRISM will resolve more precisely than ever how these celestial objects are formed.
XRISM is developed under an international collaboration of ISAS/JAXA, NASA/GSFC, and ESA, along with universities and research institutes throughout the world. The development includes not only satellites and intruments, but also data analysis software for users